Date: 23, 24, 25 July 2021
CONCERTs and OPENSTAGE
Friday and Saturday at 9:30pm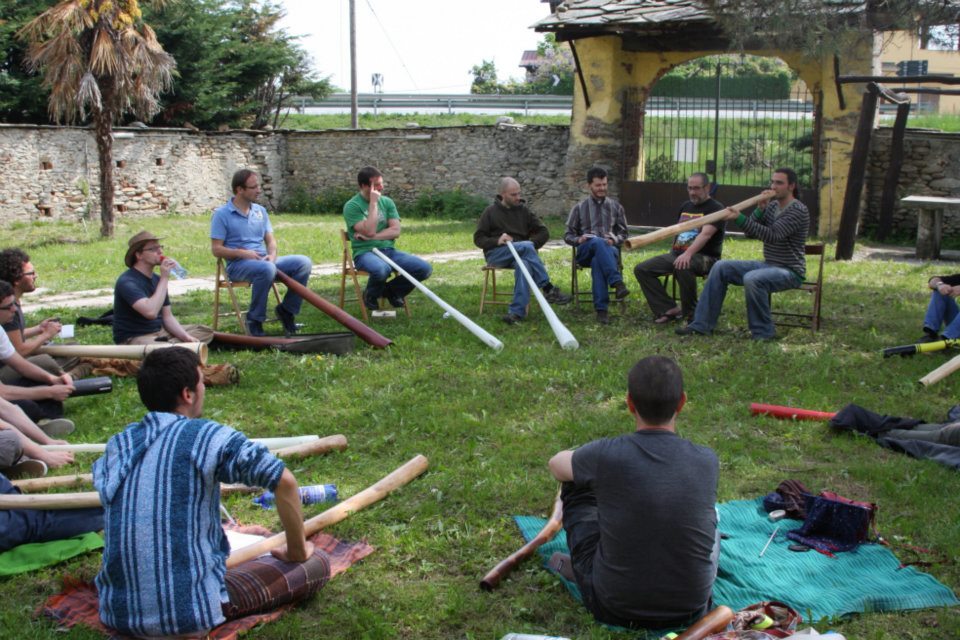 This edition will have three consecutive days lesson, it will introduce you to a teacher per day: Jacopo Mattii, already a student of this workshop first and teacher for three times for the same event, Andrea Ferroni, organizer of the event, returns as a teacher proposing some of his typical topics already held in foreign festivals, and Ansgar Stein, from Germany, one of the most appreciated teachers of this event, absolutely well know all around the globe.
The event is reserved for the associated "Arti e Tradizioni".
 

Andrea Ferroni
Andrea Ferroni, Turin – 1977. Enchanted by the didgeridoo, he began his studies as a self-taught musician in 2002, then follows courses and workshops held by world-renowned artists. In less than three years, he participates in the most prestigious European festivals in France, Switzerland, Germany, Portugal, and Great Britain, obtaining excellent feedback from critics and reviews in specialized magazines. He founded the "Didgeridoo School", where he started teaching in 2003. He first founded the "Yidaki" cultural association and then "Arts and Traditions", to promote and organize didgeridoo events.
Publish a book entitled: "The Didgeridoo Discovery" and seven CDs entitled: "Windproject" (2003), "Noises & Voices" (2004), "Tribal Revolution" (2005) and "Breaking Through" (2006), "Windproject 2008 "(2008), Ritratto (2008), Testimonianze (2011) and two compilations as an association project. He personally builds his instruments, which are highly appreciated in Italy and by many artists who play them live.
Anyway, Andrea is a very eclectic person. So he's not just a didgeridoo player. He works as the CAE analyst to evaluate the effect of frequencies, resonances, noise and noise quality on complex systems, evaluating the effects on human perception on the basis of psychoacoustics. He is a producer of beer and cheeses (only for friends), he is also interested in the arts in general, interpersonal communication, and relationships.
Further information:
http://www.andreaferroni.it/
Y
outube channel: 
https://www.youtube.com/channel/UCrf-SvOmBS6i2wUVpP9aLpA
ANDREA's WORKSHOP TOPICS, see the video below:
Ansgar Stein
Ansgar, a trained interior decorator and graphic designer, picked up on the didgeridoo in 1993 after visiting a concert of the iconic Aboriginal rock band YOTHU YINDI. Drawing from inspirations of traditional and modern didgeridoo playing alike, Ansgar was not satisfied with being confined to the prevalent esoteric frame-set, so he took his love for science, his nerdy science-fiction obsession, his mechanical skills, his graphic eye, and his joy of painting and costume, his admiration of language, his fascination for movement, dance and musical expression, and used all these factors to feed his new-born love for the allegedly simple and yet complex didgeridoo.
Thus he developed an approach unseen before in the scene.
Apart from the musical approach, Ansgar also publishes in the field, is a founding member of and contributor to the German Online Didgeridoo Encyclopedia, and always has an eye on some of the German Wikipedia-entries related to the subject.
BIO AND INFO: HTTP://WWW.PROJECTPAN.DE
ANSGAR's WORKSHOP TOPICS, see the video below:
 Jacopo Mattii
Jacopo Mattii is a didgeridoo teacher and solo player. Born in 1979, he discovered the didgeridoo in 1999 but began to play concretely in 2008, with performing as a street artist in numerous festivals in Italy. Fascinated by the new techniques developed in Europe, in 2010 he began a new path with the didgeridoo, working on composition, and developing an increasingly personal style. His music is characterized by the search for the intimate expressiveness of this ancient instrument, in a conception of contemporary music. The result are musical progressions that travel on tracks of articulated compositions, rich in dynamism and groove, in which the melodic characteristics of the didgeridoo are highlighted through a long work dedicated, in recent years, to variations of the toot and the use of the voice. Jacopo has already been a teacher for two years at Andrea Ferroni's Seminar of Arts & Traditions. In 2013 and 2019 he played as the main artist of the Didjin'Oz festival in Forlimpopoli and he will play again in 2021. He has two solo albums "Chest Factor" 2013 and "The Heart in the Cavern" 2019. https://soundcloud.com/jacopo-mattii
https://www.facebook.com/Jacopo-Mattii-didjeridoo-546376232053617 https://www.youtube.com/channel/UC–yf46U_Nlqq5060G44yHA 
JACOPO's WORKSHOP TOPICS, see the video below:
Workshop topics: 
The seminar focuses on the composition of songs for solo didgeridoo. In the first part, will be addressed topics of tempo, rhythm, harmony, and melody! In the second part we will analyze the playing and composition techniques for solo didgeridoo:
• analysis of the differences between the main circular breaths (Classical, Wobble, Jaw, Bounce) and how these mainly affect the rhythm
• analysis of dynamics and accents
• the melody in the didgeridoo, working on the presence and variation of the toot!
• the use of the voice,
• the development of partners through all aspects of the composition and construction of a song
-Place:
c/o Assoc. "Arti e Tradizioni"  Montebruno, 2 – Garzigliana – TO
-The requested contribute is used to cover:
-6 hours lesson per day, lunches and dinners on Friday and Saturday, lunch on Sunday. A concert with open-stage.
– Overnight staying:
Close to our place, there are several b&b and small hotels.
It is even possible to sleep in our association with your own sleeping bag. Please ask in that case.
-Please note: Lessons will be held in English and Italian