Date: 31st July, 1st ans 2nd of August
CONCERT 
Saturday 1st August at 9:30pm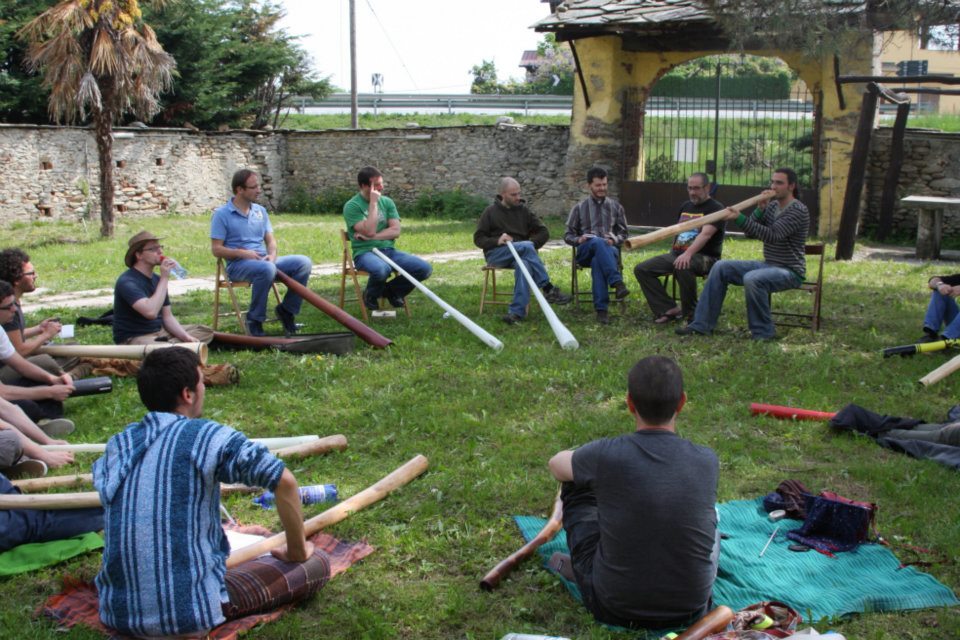 This edition in going to have of three consecutive days lesson, it will introduce you two teachers:
William Goldschmidt
, already a student of the association, well known due to  some successful participations in international festivals including the Swizzeridoo, the Didjin'Oz in Forlimpopoli and the International Festival of digeridoo in Israel.
He has already been a teacher of the past edition, particularly appreciated by the participants, he will propose a workshop starting from the same bases as last year but bringing new topics.
Andrea Ferroni
, organizer of the event, returns as a teacher proposing some of his typical topics already held in foreign festivals. Topics they appear as apparently peripheral themes and then quite rarely to be found in other workshops.
INFO and BOOKINGS:
andrea@artietradizioni.it
or whatsapp via the site pop up or 3385812914
 

Andrea Ferroni
Andrea Ferroni, Turin – 1977. Enchanted by the didgeridoo, he began his studies as a self-taught musician in 2002, then follows courses and workshops held by world-renowned artists. In less than three years, he participates in the most prestigious European festivals in France, Switzerland, Germany, Portugal and Great Britain, obtaining excellent feedback from critics and reviews in specialized magazines. He founded the "Didgeridoo School", where he started teaching in 2003. He first founded the "Yidaki" cultural association and then "Arts and Traditions", to promote and organize didgeridoo events.
Publish a book entitled: "The Didgeridoo discovery" and seven CDs entitled: "Windproject" (2003), "Noises & Voices" (2004), "Tribal Revolution" (2005) and "Breaking Through" (2006), "Windproject 2008 "(2008), Ritratto (2008), Testimonianze (2011) and two compilations as an association project. He personally builds his instruments, which are highly appreciated in Italy and by many artists who play them live.
Anyway, Andrea is a very eclectic person. So he's not just a didgeridoo player. He works as the CAE analyst to evaluate the effect of frequencies, resonances, noise and noise quality on complex systems, evaluating the effects on human perception on the basis of psychoacoustics. He is a producer of beer and cheeses (only for friends), he is also interested in the arts in general, interpersonal communication and relationships.
Further information: http://www.andreaferroni.it/
 William Goldshmidt

Just 8 years ago I joined this association to know and study the Didgeridoo for the first time. The art of playing "freely", without too many schemes and limits, was the factor that fascinated me mainly in its time and that still gives me the energy to experiment while playing. Later  I did begin to focus on rhythm and musicality, precision, timing because I felt the need to transmit this instrument to a wider audience. The art of the Beatbox, a fundamental part of my style, made me discover more about the high potential of the mouth and breathing. Didgeridoo today has become an extension of my mouth, amplifying and modulating every sound I produce. With this workshop I want to give many ideas as possible, helping to stimulate everyone's creativity and artistic personality.
WORKSHOP program by Andrea Ferroni
Friday 31st July
– Acoustic possibilities of the didgeridoo –
This workshop was born from Andrea Ferroni's experience in the field of acoustics related to the didgeridoo long almost twenty years. An often difficult topic if faced without real bases that can lead to trivial but expensive and misleading errors for the study and comprehension. This theme is generally dealt with in the tool building workshops held by Andrea. In this workshop we will review the same concepts under a more practical key.
Which instrument to choose (or to build easily) to obtain a specific color tone, to play a technique listened to by other musicians, etc., etc.
Maybe you might notice that some sounds and timbres or techniques are not attributable only to our way of playing but also to the type of instrument in our possession. After that there can be no excuses.
If you had more didgeridoos, take them with you. If you have many, choose from the most different ones.
Saturday 1st August
– Repertoire –
The main difference between a musician and a player lies in the repertoire.
The "repertoire" is the goal that can distinguish a musician who enjoys playing while growing and a player who is bored and leaves the music study. It is boring and harmful in music (but not only in music) to get stuck, to repeat the same actions waiting in vain for an imaginative idea which our passion can flow with.
With this workshop you can become the creators of your art, you will find methods to fix old ideas and embellish them.
In a few months you may be ready to record your first album.
Sunday 2nd August
– Home recording –
How nice would it be to be able to record a CD in a recording studio worthy of a modern pop star? Microphones of the value of a car, acoustically treated room to avoid external contamination and inadequate environmental reverberations.
But having limited resources it is possible to do an excellent job even at home, with a PC, a good but cheap microphone, a sound card, maybe free software and a little patience.
In this workshop we will combine what has been learned in the previous days to emphasize what has been learned in order to finalize it. From the beginning to the end in one workshop.
The satisfaction of finishing a job that took us months or years is first an important and personal achievement, a prize and then an excellent stimulus to continue.
This workshop is aimed for recording only one instrument at a time (for time and complexity limits) and will give the opportunity to make our recordings stereophonic (a microphone records in mono generally) and make it sound on any system with the same warmth that we listen live.
WORKSHOP program by William Goldschmidt
The didgeridoo is the pure expression of our mouth and our breath. I am an extremely contemporary player who respects tradition but tries to analyze all the uncommon nuances of this instrument. The Voice, the Beatbox, the percussive Toot and the didgeridoo Drone are factors that represent my way of playing.
Friday 31st July
In search of Musicality:
Do we want to introduce this tool to a wider community ?!
I believe that the key lies in bringing out the musicality that is within us, a completely subjective but essential quality to make a song more pleasant and harmonious with this very ancient instrument.
The basic didgeridoo is a fairly simple tool, however fueled by much more complex factors such as our mouth and our breath.
To increase musicality many times we need to detach ourselves from what the didgeridoo is like we are used to hearing it and to focus more on the various breathing techniques, singing and their dynamics.
In this first phase of the workshop we will observe the techniques that I have refined over the years to increase the musicality of my songs.
The Drone and its dynamics – the Drone has many different facets based on the vibration of the lips and the amount of air we let out. We will analyze what I call the "Sub Drone" and how we can emphasize other sounds above it.
Voice and Didgeridoo – The voice has enormous potential if we can get it out in a crystal clear way without too much drone interference, the right balance allows us to create melodies that further increase the dynamics of a track.
Percussive toot – Simulating another instrument with the didgeridoo is another interesting aspect to open the perspectives of this instrument. With the detached Toot we can simulate a lot of percussion of various kinds.
Saturday 1st August:
The art of the Beatbox
The didgeridoo is a filter – amplifier of our mouth and the Beatbox is definitely the art that experiments and studies most of all the sounds and ways of breathing that our body is incredibly able to make.
It is impressive to observe, in recent years, the enormous media development of this art, which by constantly transmitting new inspirations, is leading to rapid growth at a general level.
It is very important to be able to shape the beatbox and the didgeridoo in one thing, you must be able to tie them in such a way as to surprise the listener.
In this second part of the Workshop we will observe my approach to the Beatbox and how best to combine it with the didgeridoo.
The different Beatbox schools – The best way to learn is to observe the experts. As in the didgeridoo there are various schools created by level players, so we will observe them through some videos paying attention to some specific techniques.
Beatbox basic sounds – Kick, Snare and Hi-hats
Integrating the Beatbox with the Drone – we will observe and practice those crucial points on which to focus to better integrate the Didgeridoo with the Beat box.
Sunday 2nd August
Inward
We have always focused on those sounds due to the escape of air but not on those obtained from inspiration.
We have always been taught to breathe through the nose !! But what if we started to breathe through our mouths and above all making a pleasant aspirated sound at the same time ?!
A parallel world opens which highlights many new techniques and sounds.
So in the latter part of the Workshop we will understand:
– The various techniques that led me to develop inward sounds
– Get to know the inspiration and the various dynamics.
– Once the "suction pump" is activated we will observe which filters we can use to modulate the sounds: Inward Toot, Lip Roll, Click roll
– Balance in and out
Workshop conclusion
I will summarize all the techniques listed above and we will go to observe them in a completed track. So we will talk about how I create a new song and what are my main sources of inspiration.
-Place:
c/o Assoc. "Arti e Tradizioni"  Montebruno, 2 – Garzigliana – TO
-Cost:
3 days – friday, saturday, sunday:
200€ per person booking before the 30 January,
-The requested contribute is used to cover:
-6 hours lesson per day, lunches and dinners of friday and saturday, lunch of sunday. A concert with openstage.
– Overnight staying:
Close to our place there are several b&b and small hotels.
It is even possible to sleep in our association with your own sleeping bag. Please ask in that case.
-Please note:Lessons will be hold in English and Italian